Asian Lite Columnist Riccha Grrover in an exclusive interview with Jomon Kuriakose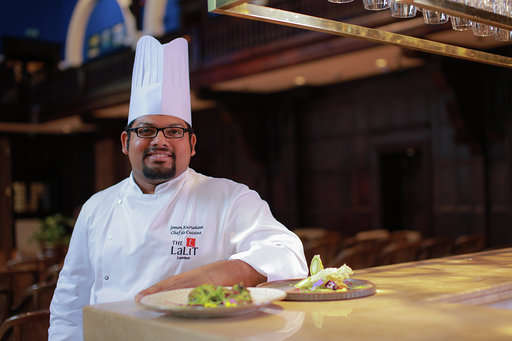 Set in the historic Grade II listed former St. Olave's Grammar School's Assembly Hall; Baluchi strives to serve a contemporary take on impeccably executed Indian dishes. Their vibrant menu takes inspiration from the major food regions of India to carefully craft an elegant cuisine, which is made from the finest organic ingredients.
Chef de Cuisine at Baluchi, the pan-Indian dining destination within The LaLiT London, Chef Jomon is responsible for creating new and exciting dishes to continually enhance the menu, as well as leading the kitchen team on a day-to-day basis. With over a decade of experience in the kitchen, Jomon Kuriakose is passionate about creative flavours and creating innovative dining experience for discerning diners….
RG- Tell us about your journey as a chef- why did you choose to be one, becoming chef de cuisine at the famed The LaLiT London restaurant, your Celebrity MasterChef appearance and fame? How does it all define your career trajectory?
JK- Born and raised in Kerala, India, I was always passionate about cooking and eating delicious food. To develop my cooking skills as well as my experience within the hospitality industry, I completed a bachelor's degree in Hotel Management from the Sarosh Institute of Hotel Administration at Mangalore University. I was offered my first role at Speciality Restaurant Pvt Ltd, one of India's leading restaurant groups, as Chef de Partie, where I got the chance to work closely with Chef Anthony Huang and Chef Sandeep Pandey, two great personalities in the Indian hospitality industry. I moved to London in 2008 and took up the role of Chef de Partie at Bombay Palace, strengthening my expertise in an authentic Indian cuisine. In 2012, I became Senior Chef de Partie at Cinnamon Kitchen before joining Baluchi at The LaLiT London as Chef de Cuisine in 2017. Appearing on BBC Celebrity MasterChef 2018 was a really exciting opportunity and a real highlight of my career. Since then, many people have come to Baluchi and recognised me, which is amazing….
RG- What are the top five dishes you would recommend a first-time diner to try? How would you describe the food at Baluchi in 3 words? Tell us about the iconic Naanery- the bread bar and how many naans are made each day, and which is the best seller there?
JK- Baluchi offers a range of dishes, including a number of vegetarian and vegan choices. I would personally recommend trying any of the authentic kadai curries. Some of my personal favourites include lamb chops, Tandoori octopus, and Butter chicken, as well as the signature Dal Baluchi of course!…